---
What's our city supposed to look like? How do we want to live? To answer questions like these and have a real impact on peoples living conditions and surroundings, we are working together with citizens on concepts of urban development. From planning to realizing, our interdisciplinary work with externs and experts ensures profound and sustainable results. We focus on reframing and redesigning spaces, by which means we also can and want to highlight social imbalances. Every part of the town, living space and street is different. We adjust our work, goals and methods to the people and places we act with and always place importance on the integral inclusion of inhabitants and users of urban spaces.
Most of our references are in German, but feel free to contact us anytime for further details in English.

Development concepts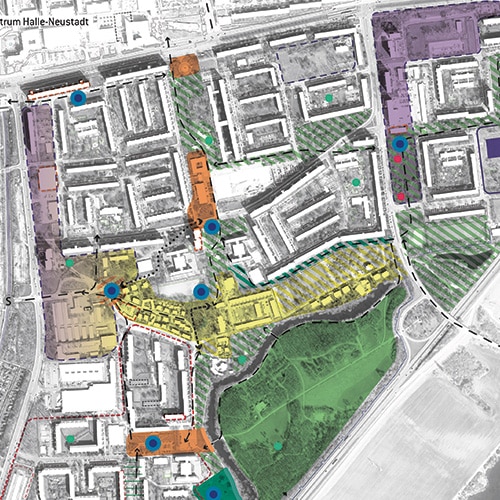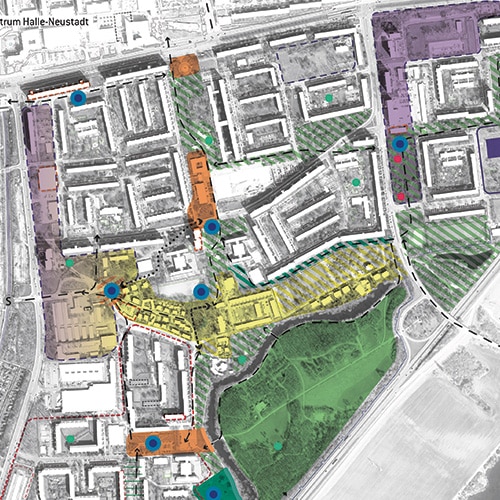 District Concept - SüdNeu
Together with "Urban Catalyst" (Berlin) we are currently writing a concept for further actions in Südliche Neustadt (Halle/Saale). The goal is a strategy of interlinked long-term perspective for the struggling neighborhood, short- and medium-term actions, and "Schnellstartern" (Kickstarters) able to create powerful impulses.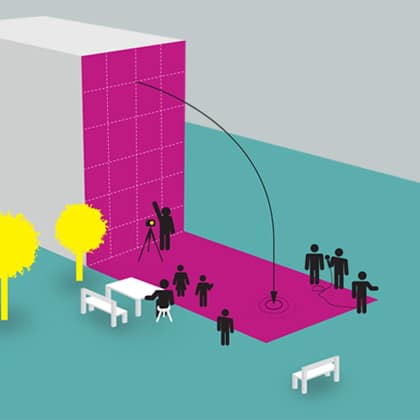 ha:neo
As a part of Kunststiftung Sachsen-Anhalt scholarship, Freiraumgalerie renders a concept for art in public spaces of Halle-Neustadt by the name of ha:neo. From 2020 on, monumental wall paintings provide identification with the city of HaNeu, its art and society. In opposite to festivalized and arbitrary mural art, ha:neo focusses on relevant paintings, intensive inclusion of the artists and creative ways of participation.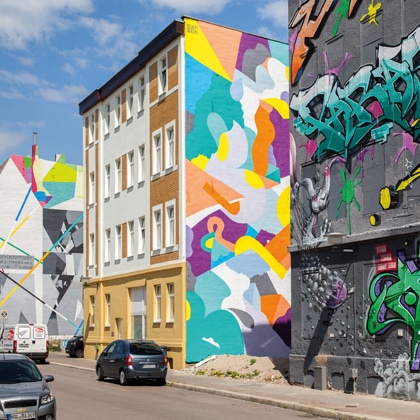 Halle Freiimfelde
The formerly emptiest quarter of Germany develops into a colourful and self-determined part of town. Impulses are given by urban art festivals, culture and education, networking and the establishment of ateliers and workshops. Freiimfelde is history in the making.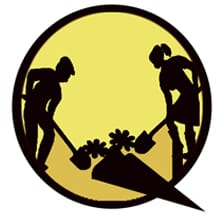 Quartierskonzept Freiimfelde
In Freiimfelde the city of Halle (Saale) ventured a pilot project by commissioning us with the organization of a civic quarter concept. Thereby the city acknowledges the neglected quarter's need for perspectives as well as the local engagement. We moderate the process, while locals take responsibility for their quarter by elaborating contents and measures by theirselves or together with experts. From the first ideas to the final concept – that is participative urban development for sure!
Participation processes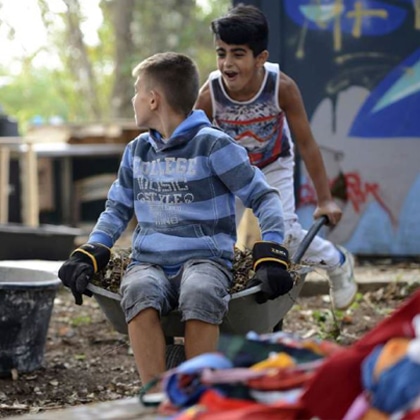 The Fallow / The Park
Abandoned property, beginning civic engagement, real estate speculation and even more engagement – after years of work in the quarter and together with the people of Freiimfelde, the city of Halle (Saale) and the Montag Stiftung Urbane Räume, we are capable of securing the most important space of the quarter. A brownfield of 6000 square meters becomes an open and creative park for the people.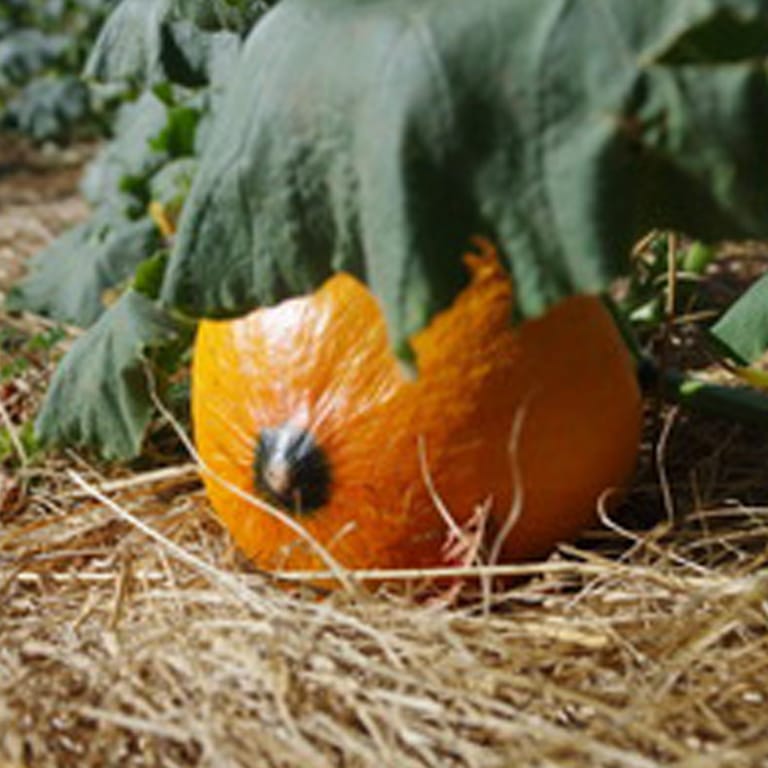 BBSR Green Urban Labs
Together with the City of Halle (Saale) we successfully applied for the research project "Green Urban labs" by the Federal Institute for Research on Building, Urban Affairs and Spatial Development. From the application period on the Freiraumgalerie worked as link and intermediaries between the public and the city administration. Since 2016 we support the process, realize projects and moderate the various participatory initiatives. The application's center piece is a concept of four interlinked forms of urban nature in close spatial proximity, ranging from highly used recreational nature to spaces of urban wilderness with high biodiversity. In summer 2018 we organized the Building & Planting Festival All You Can Plant.
Neighbourhood networking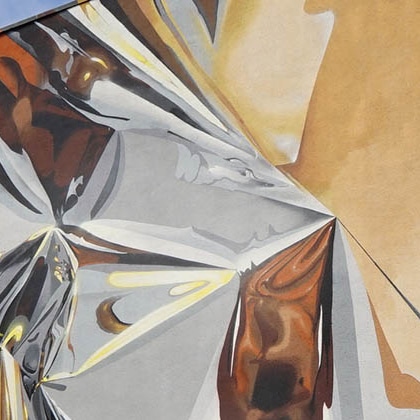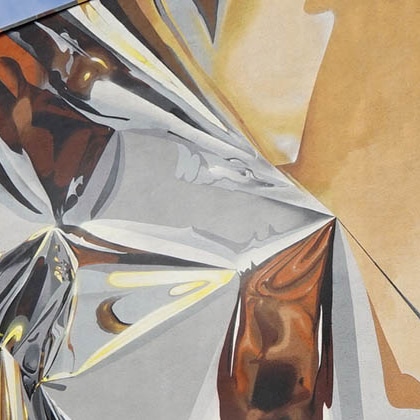 Silberhöhe
Based on our experiences in other boroughs and living areas of Halle, we also operate in the southern district of Silberhöhe. In the summer of 2018 we implement the neighborhood's first big wall painting and create a communal map with local spots, that are worthy to be awarded. During a graffiti event in 2019, we revitalize former community center "Silva" and closely work together with the local quarter management ever since.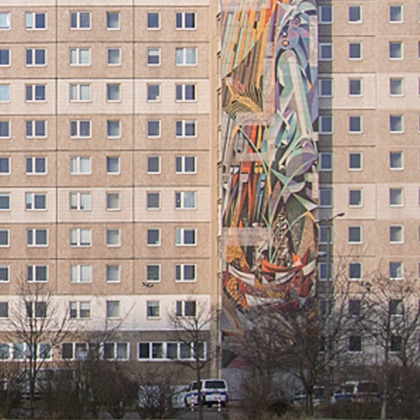 Zukunftsstadt (future city)
As a contribution to future city competition of the Federal Ministry of Education and Research, the project ha:neo represents the work of Freiraumgalerie as one actor in a complex network of many. In the quarter of Halle-Neustadt, one of the GDR's most important housing projects, we organize and elaborate murals and workshops with the inhabitants and local players – during a pilot phase in 2016 and an extensive program in 2017.
Objects & Interventions
Shedhalle
The abandoned workshop needed a new vision. The neighborhood was in dire need of space for creatives and young professionals; the solution to be found had to be extremely cost-efficient, quick, and low-level enough to minimize bureaucracy in terms of building applications. Not only do the colorful, transparent "work boxes" provide a creative workspace, they also add a new face to the old hangar. Both planning and realization were done in a highly collaborative process the ensure that the mobile boxes are designed to meet their user's needs.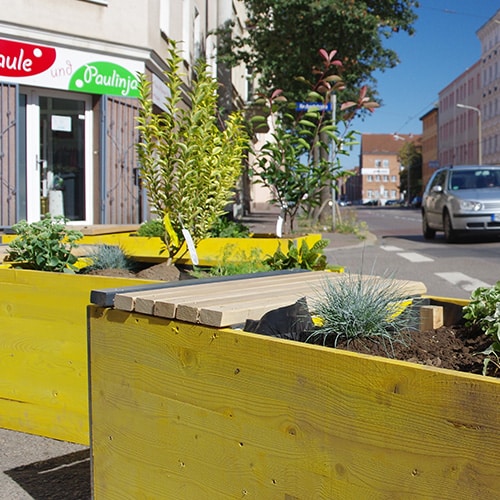 SchuBeBaKo's
Short for "Pushkart – Plant Bed – Bench – Combination": the flexible, mobile interventions transform the aesthetic of urban places and improve the quality of stay. They are stabile, stylish, green, and cheap, and a win for any project